The Tribune Democrat Newspaper
Johnstown Pennsylvania 1998
He's the Tops!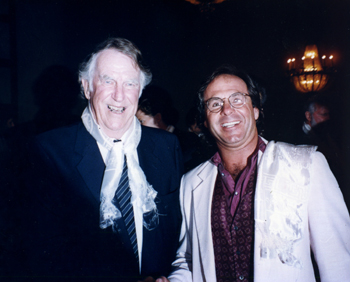 Steve Knaze, on the right, shakes hands with Sir Edmund Hillary, the first man to climb Mount Everest in Nepal. Knaze's pursuit of mountain climbing has taken him to new places to meet interesting people.



Steve Knaze has set a goal of climbing the highest mountain on each of the world's continents. While the former Johnstown man has managed to conquer 4 of the 7 peaks on his way to mountain climbing's Grand Slam, Knaze first had to pull himself from alcohol addiction to get his life back on track.. Following his graduation from Greater Johnstown High School in Pennsylvania , the son of Stephen and Mary Ann Knaze adopted a Bohemian lifestyle.

"I'm proud that I have overcome those problems," Knaze said in a telephone interview from his Santa Rosa , California home. "I have been going to AA for 12 years. I am a product of the hippie scene in the 1960's and I am not ashamed because I have battled back." Knaze is an independent contractor working in and around the San Francisco region but spends much of his time training and concentrating on climbing.

He is also busy raising two children on his own, Stephen III, age 13 and Maryann, age 10. It was three years ago that he got bitten by the mountain climbing bug. He was driving from a job site when he spotted Mount Shasta in the Northern California distance. The 14,400 ft. mountain seemed to beckon him.. "I said to myself, 'I cannot do that' but then I thought, 'Why can't I?'" "I suppose I was a late bloomer, but most climbers will tell you that the best age to climb is when you are in your 40's, 50's and 60's."

Knaze says that mature people have better endurance, stamina and common sense than their younger counterparts. He quotes 80 year old mountaineering legend Bradford Washburn who says, "A great mountain climber knows when to turn back." The first major peak for Knaze came in 1995 when he climber Alaska 's 20,340 ft. peak Denali, formerly known as Mount McKinley , the highest peak in North America . "To prepare for a climb I do a lot of weight lifting and aerobic exercise but I cross train with cycling, scuba diving and parachuting."

Knaze has just returned from the Ukraine and Russia where he was a founding member of Climbers for Peace, an organization of American, Ukrainian and Russian alpinists who have recently ascended Mount Elbrus in Southern Russia . At 18,600 ft. it is the highest mountain on the European continent. Only three members of the American team of 15 made it to the summit and Knaze was one of them. Another co-founder of the group is Fred Ptucha, a California investment broker. He had never met Knaze before the expedition but came to admire him for his determination. "I am more of a hiker than a mountain climber," Ptucha said. "But Steve reminds me of a tough Johnny Cash type person who backs up what he says. With overcoming his alcohol problems, Steve has had a rough life. He is like a diamond, a man with a heart of gold but a little unpolished around the edges." While not reaching the top was a minor disappointment for Ptucha, he says that the number one focus was building bonds of friendship between the people of three countries who were once enemies. Knaze said that conquering a mountain is done in stages. The climbers spent five days making acclimatizing climbs to adjust to the altitude. By taking a series of hikes in the 8,400 to 13,500 ft. range, the mountaineers produce more red blood cells to carry more oxygen to the body. "The last day is the hardest," Knaze says. "We awoke at 4 o'clock to hike to the highest base camp. From there we tackled the ascent to the summit."

It takes 8 hours to climb to the summit and 3 to return. Ptucha said that Knaze was too modest in describing the climb. While the visibility was poor, there were sustained winds of 30 miles an hour and gusts exceeding 50 miles an hour that caused white out conditions. They could only see 12-15 ft. in from of them.

"This was not a climb for amateurs," Ptucha said. "Once they reach the saddle of the twin peaks at 16,980 ft., some of the climbers wanted to climb the smaller easier peak since the weather was bad. But Knaze and his Ukrainian climbing partner Leonid Unich would not hear of it. They came too far and had put too much effort into the climb to settle for anything less.

Knaze has climbed Mount Aconcagua 23,100 ft. on the border of Argentina and Chile in South America and Mount Kilimanjaro in Africa . He eventually would like to climb Everest and Vinson Massif in Antarctica . " Mount Everest , the highest peak in the world would be my last mountain because of the expense involved," Knaze says. "You need sponsorship plus you have to have some luck to get a permit which costs around $10,000.00. Even the bottled oxygen that has to be imported from Russia to Nepal is expensive at $600.00 for each bottle. The whole climb would be about $50,000.00." Knaze has put his life into perspective. He used an adage popular among climbers. "When you reach the top you have to remember that you have only climbed ½ of a mountain. More that 90% of the fatalities in mountain climbing occur on the way down."

Steve likes to quote Rene Daumal: You cannot stay on the summit forever, you have to come down again. So why bother in the first place? Just this: What is above knows what is below, but what is below does not know what is above. One climbs, one sees. One descends, one sees no longer, but one has seen. There is an art of conducting oneself in the lower regions by the memory of what one saw higher up. When one can no longer see, one can at least still know. Even if Knaze does not stand on Mount Everest 's peak, he has already conquered some of life's biggest challenges.
---