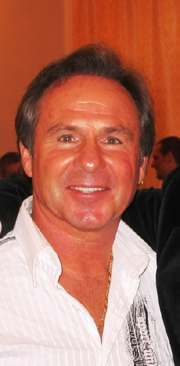 www.StephenDominicKnaze.com
Tribune Democrat Newspaper Article

Some call him "the Slovak Prince!"

Steve is a charter member of Climbers for Peace which is a federation of American, Ukrainian and other people from various countries who believe that some of the major problems in the world rest not with its people but with their individual governments. This organization promotes peaceful relations for all human beings. Being extremely proud of his Slavic heritage, Steve loves to travel to the land of his ancestors, Slovakia, where he has contact with numerous relatives.

A son, father, brother, brother-in-law, uncle, grandfather, businessman, mentor, handyman, wise-guy and friend, this avid adventurer is a character who loves traveling the world, practicing his Russian and Slovak language skills, climbing big mountains, big game hunting, fishing, dancing, playing chess & billiards, riding his motorcycle, socializing and entertaining his friends with tall tales of his colorful life. His passion for the outdoors began in his youth as a Boy Scout in Johnstown, Pennsylvania. After finishing high school in 1969, Steve had traveled extensively throughout the United States before settling in the Wine Country of Sonoma County, California. He started and owned a roofing and construction company there for many years while raising two of his three children there as a single parent.

Being a fitness enthusiast, he discovered high altitude mountain climbing in 1994 after reading the book "The Seven Summits" and then decided to pursue the Grand Slam of mountaineering, the climbing of all of the highest mountains on Earth's seven continents. Steve has participated in alpinism for many years and successfully climbed to the summits of Mt. Kilimanjaro (19,341 ft.) in Africa, Mt. Elbrus in Russia (18,442 ft.) and Mt. Aconcagua (22,834 ft.) in Argentina. He climbed Mt. McKinley in Alaska to Camp IV at 14,200 ft. and has trekked the Nepalese Khumbu/Everest region.

His family, friends and a few adversaries will attest that he knows a little something about everything, has a voracious appetite for life and tries to live his life to its fullest, "in the moment" and "one day at a time". He works hard and plays even harder. When "the finish line" comes, it will be said that he "left nothing on the table". Steve always says "God has been very good to me and has given me much more than I ever deserved."